DETAIL
【Come with abalone! Enjoy shellfish sashimi and bean-grilling shellfish exhaustion course】 5500 yen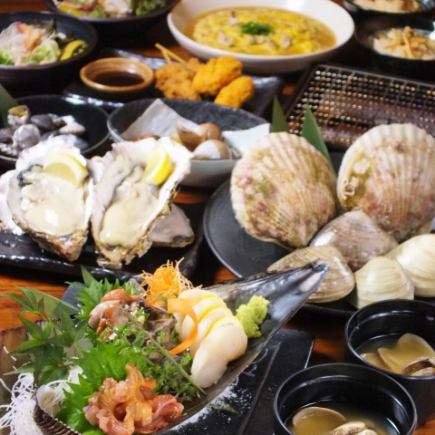 By using a coupon5500 yen
tax included
Reservation deadline

Visit of hope the day before until 23:00
Content that abalone, secretary and also the protagonist can convince everyone, no mistake! Taste, volume, impact! ☆ From royal road to creation, this is our shop "Kaiiri" Pleasure!
Course menu
· 2 appetizers
· Random Salad
· Large grain raw oysters (those who are not good at oysters can be changed to clams)
· Abalone entering! Shell scales 5 points
(Abalone, Sasae, White Mill etc)
· 5 types of bean-grilled shells (grapefruit, scallops, scallop, oysters, white rhinoceros)
· Shellfish with shellfish egg
· Rice cooked with shellfish
· Miso soup of Aoza
※ We will also cooperate with surprises, etc. regarding usage such as anniversary and birthday! Kaiiri supports you from the bottom of my heart.
※ We are waiting for consultation from any small matter!
※ All you can drink + 1500 yen
Coupon that can be used
【Limited time offer】 All cups including sake including all kinds of drinks All drinks available in the restaurant All you can drink 1980 yen

Presentation conditions

At the time of booking and when visiting

Conditions of use

Other coupons and services can not be used together / 1 group / 1 group OK / 1 person hood 1 order will be subject / separate sending fee 380 yen will be charged

Expiration date

Until the end of April 2018
2018/04/09 update