Course details
【Abalone entering! Seashell course covering piercing shellfish and bean-grilling】 All 8 items 5500 yen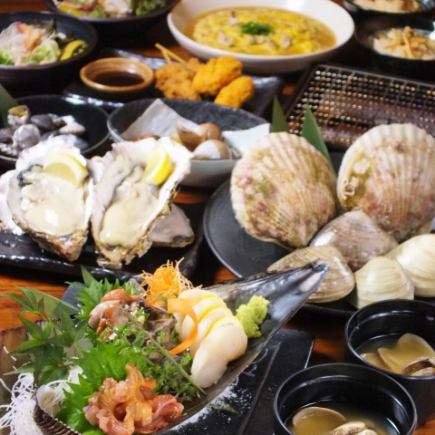 By using a coupon5500 yen
tax included
Reservation deadline

Visit of hope the day before until 23:00
Available days for reservation

Monday - Sunday - Public holidays - Holidays
Abalone, large grain raw oysters and more than 5 kinds of shellfish are enjoyed, luxurious course of extreme content! Contents and no mistakes that everyone can convince both the secretary and the protagonist! This is a delicious snack! ! Enjoy the content such as!
Course menu
· First three items
· Random Salad
· Large grain raw oysters (those who are not good at oysters can be changed to clams)
· Abalone entering! Shell scales 5 pcs
(Abalone, sashimi, white mill etc)
· 5 types of bean-grilled shells (grapefruit, scallops, scallop, oysters, white rhinoceros)
· Shellfish with egg shellfish
· Rice cooked with shellfish
· Miso soup of Aoza
◇ + 1500 yen for 2.5 hours with regular all-you-can-drink (30 minutes before LO)
◇ + 1980 yen for 2.5 hours All drinks in the shop All you can drink (30 minutes before LO) ※ coupon price
* Shells such as oysters in the course can be changed.You can also change other dishes.(Negotiable)
※ Regarding usage such as anniversary, birthday, etc., we will cooperate with surprises etc. Kaori is cheering for the secretary from the bottom of my heart!
※ We are waiting for consultation from any small matter!
2018/10/12 update